Pitstop

Vital statistics

Type
Diner
Level
Local diner
Location
Westlake, Los Angeles
Inhabitants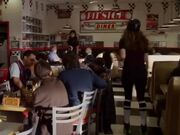 Pitstop, or Pitstop Diner, is a diner located somewhere in Westlake, Los Angeles. The diner was a large building and the waitresses used rollerskates to get around.
The Pitstop Diner has, as the name suggests, a go-kart/racer theme, which also makes it a unique detail on how the waitresses at the diner get around.
The Pitstop Diner is a restaurant/diner where people go to when they want to eat lunch or dinner, or just want a little snack or some drinks. It is a nice, comfortable place to relax and just have a conversation. The foods get served fast and in a fancy way because the waitresses at Pitstop get around in rollerskates.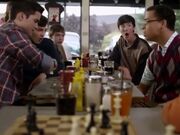 The Chess Club, a group of people who expertize in the sport of Chess, meets in this diner. Jackson Kale also likes to hang out at the diner, killing time by defeating the Club in chess.
Zoey Stevens and Jackson agreed to meet at this diner to get to know eachother. When Zoey arrived, Jackson was already there, playing chess. They found a table for themselves, and had a great conversation until Zoey accidentally used the word 'date'. Zoey also used her "Listen and Obey" app on her phone to get two boys to flirt with her to make Jackson jealous.